Brotkrumen-Navigation
The EU and the International Labour Organization (ILO)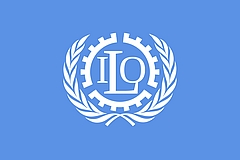 Module by Robert Kissack, IBEI
In this webinar, we learn about the history of the ILO, and the background of EU-ILO relations. It continues by exploring the how the EU is represented in the ILO today, and the extent to which the Lisbon treaty has made a difference. Overall, we will see that while the ILO was at the vanguard for EU representation in the UN system for much of the 1970s and 1980s, the unique tripartite structure of the ILO has curbed the degree of collective representation possible. While the Lisbon Treaty has seen the EEAS take the place of the European Commission, the Presidency is still very much front-and-centre in speaking for the EU.
Keywords:
International Labour Organization; European Union; fundamental labour standards; social policy; labour regulation
Video lecture by Robert Kissack

Robert Kissack
has been at Institut Barcelona d'Estudis Internacionals (IBEI) since 2008. His research profile is at the intersection of the foreign policy of the European Union (EU) and international organisation. More specifically, it has centred on the EU as an actor in the multilateral system and his book Pursuing Effective Multilateralism (Palgrave 2010) was one of the first in this field. He specialises in examining the capacity of the EU to operate in many different multilateral organisations, including the ILO, FAO, UN General Assembly and Security Council, the WTO and the IMF. He has worked in two research projects in this area, EU-Perform (funded by the European Science Foundation) and EUN-NET, a brand new Jean Monnet Network (2017-2019). He has also worked closely with colleagues at IBEI, including Esther Barbé, Oriol Costa and Elisabeth Johansson-Nogués in many projects on European foreign policy.
For more information, look at:
http://www.ibei.org/en/robert-kissack_14297
To learn about the history of EU-ILO relations:
R. Kissack '
EU Actorness in the International Labour Organisation: Comparing declaratory and voting cohesion
', Global Society, Vol. 22(4) 2008, pp. 469-489. 
To find out more about the way in which the EU has promoted its own norms:
R. Kissack '
'How to Lose Friends and Alienate People'? The EU as a global social power'
, Journal of European Social Policy, Vol. 19(2) 2009, pp. 99-116. 
For an overview of the performance of the EU in the ILO:
R. Kissack '
The EU's Performance in the International Labour Organization
', Journal of European Integration, Vol. 33 (6) 2011, pp.651-665. 
To see a detailed study of the (rather limited) impact of the EU on the most important ILO convention in recent times:
R. Kissack
''Man Overboard!' Was EU Influence over the MLC lost at sea?'
Journal of European Public Policy, No. 22, Vol. 9, 2015 pp. 1295-1315. DOI: 10.1080/13501763.2015.1046899 
To gain an overview of the EU in the wider UN system:
R. Kissack
Pursuing Effective Multilateralism: The European Union, International Organisations and the politics of decision making
, Basingstoke: Palgrave, 2010.